Giza Plateau News Article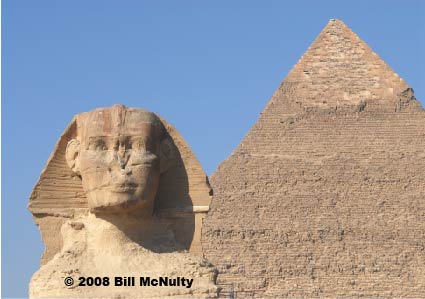 Visiting Ancient Egypt, Virtually
By D. D. Guttenplan
Published: October 2, 2012
CAMBRIDGE, Mass. — What do the pyramids of Giza in Ancient Egypt have in common with protesters using Twitter in modern-day Cairo? How did the writings of Thomas Aquinas inspire a field that now uses the motion-capture software of films like "Avatar"?
The answers to these questions lie in a relatively new discipline known as the digital humanities — in which long-lost civilizations can be recreated as virtual interfaces, and personal testimony from wars, disasters and revolutions can come together in interactive databases.
"Until fairly recently the field used to be called 'humanities computing,"' said Jeffrey Schnapp, a co-founder of metaLAB at Harvard University's Berkman Center for Internet and Society.
According to Dr. Schnapp, the field originated in 1949, when a Jesuit priest persuaded Thomas Watson, the founder of IBM, to sponsor his work compiling a computerized, searchable index of Aquinas's writings.
For decades, research "percolated along," said Willard McCarty, a professor in the department of digital humanities at King's College London. "Then when the Web was invented in the early 1990s, people starting putting all sorts of material online. And suddenly you could get access to manuscripts and images you used to have to traipse all over Europe to look at."
For a new generation of scholars, that was when things really started to get interesting. "Suddenly we went from using the computer as a powerful tool to the rise of the Web as a public space, which brought with it the possibility of creating new media, and new forms of scholarly practice," Dr. Schnapp said.
In a basement room at Harvard's Peabody Museum complex, Peter Der Manuelian, an Egyptology professor, virtually flies students above the treeline into the Giza Plateau as it appeared in 2500 B.C. at the time of the pharaoh Khufu. "This is an outgrowth of more traditional work we were doing, trying to assemble all of the older documentation from Giza, which is probably the most famous archeological site in the world," he said.
"We had all these old glass plate negatives and field notes dating back to the first Harvard/Museum of Fine Arts expedition" in 1904, Dr. Manuelian said. "We were trying to make this material more usable, and we consulted with Dassault Systèmes, a French 3-D modeling company." (The company, a subsidiary of the Dassault Group, got its start by producing software to help design jet fighters.)
The result of that collaboration is Giza 3D, a wraparound virtual environment introduced in May that lets visitors eavesdrop on Khufu's funeral rites, skim over the waves in the ancient city's harbor, or drop down into a pyramid burial shaft that has not been visited by humans in more than 100 years. With input from scholars in Germany, the United States, Italy, Austria and Egypt, the project "is a completely new portal for doing research," Dr. Manuelian said.
"It is also a way of bringing this material to a much wider audience," he said. "If you have 3-D glasses you can watch this in 3-D on your home computer."
Like Giza 3D, the City of Uruk, a collaboration between the University of Western Sydney in Australia and the Federation of American Scientists, blurs the boundaries between the humanities and the sciences. Computer scientists, using the same motion-capture technology on display in "Avatar," worked with historians to recreate a Sumerian city from 3000 B.C., allowing students not only to see how it looked but also to observe how its inhabitants behaved.
Set in the virtual world of Second Life, Uruk uses "autonomous agents that reenact the most typical daily activities of the reconstructed society," according to a paper published by its creators.
At first glance Oxford University's Great War Archive seems less flashy: a collection of about 6,500 artifacts related to World War I, ranging from postcards and photographs to a wooden leg made for a Slovenian soldier wounded on the Eastern Front. But both the collection and display would have been impossible without the Internet. Members of the public were invited to upload contributions in 2008, when it was put into a digital archive along with material from famous poets like Wilfred Owen. The public can still post photos and documents via Flickr .
The "Valley of the Shadow," a project developed by the University of Virginia's Center for Digital History , also looks at the experiences of ordinary people during wartime — in this case the diaries, letters, speeches, church records and newspapers of Augusta County, Virginia, and Franklin County, Pennsylvania, during the American Civil War.
Richard Rogers, an American teaching new media at the University of Amsterdam, likes to distinguish between what he calls "digitized" and "digital" material.
"So one kind of digital humanities starts with texts, or photos, or audio and takes advantage of computer-assisted research," he explained. "My approach is to study material that would have been impossible or improbable without the Internet — like the way the Google algorithm has changed over time, or the kinds of pictures people put on Flickr."
Dr. Rogers gave an example of what could be learned from such material.
"Well, if you take the recipes people search before Thanksgiving and plot them on a map, that will give you a geography of American taste," Dr. Rogers said. "I have a Ph.D. student who is working on the partisanship of search engine queries, identifying which are right-wing searches and which are left-wing. If you also geo-locate where those queries are coming from, it might tell you something interesting about the electoral map."
"Scholars have always been curators of information," said Dr. Schnapp, a Dante scholar by training whose first academic job was on the Dartmouth Dante project, a searchable database of commentary on the 14th-century Italian poet.
"But the work that used to take a scholar weeks of labor, and trips to three different libraries, I can now do from my laptop in five seconds," he said. "So now what? The really meaty questions don't lie at that level."
As an example of where they might lie, he points to Harvard's Japan disasters archive, which brings together government records of the 2011 earthquake, tsunami and nuclear accident with microblog postings, videos on YouTube, blogs and survivors' testimony.
Another example is Hypercities Egypt, a project developed at the University of California, Los Angeles, which archives and streams tweets from Cairo. It allows users to read what is being said in real time, and to travel back to any date since Jan. 30, 2011, a few days after the start of protests in Tahrir Square.
According to Dr. Schnapp, the explosion of technological change has transformed the nature of scholarship — and of universities — in ways we are only beginning to understand. "An archive is no longer a bunch of things; it's a place where we can do things," he said.
A version of this article appeared in print on October 3, 2012, in The International Herald Tribune.
Source: NY Times
© 2004-2026 Bill McNulty All Rights Reserved