Giza Plateau News Articles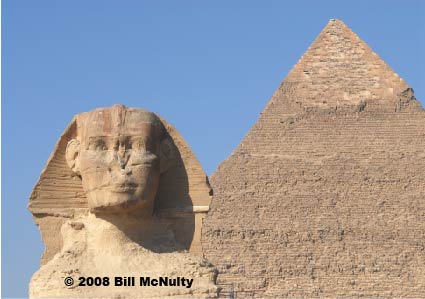 Egyptians Tweet to Save Their Heritage From Looting
Public mobilised to protect sites as experts express increasing concern about organised pillage
By Garry Shaw.
News, Issue 249, September 2013
Published online: 05 September 2013
Amid the bloodshed and chaos of the past three months, evidence is growing that ordinary Egyptians are banding together in an effort to secure archaeological sites, museums and monuments in the face of growing looting and deliberate targeting of the country's heritage. Citizens have mobilised to protect sites including Dahshur, a Unesco World Heritage Site, and Arab el-Hisn, part of ancient Heliopolis, and are also using social media in an effort to recover objects stolen from museums.
They face an uphill struggle: with the escalation in violence since the brutal break-up of Muslim Brotherhood demonstrations in mid-August, historic churches and monasteries have been attacked across the country. The Mallawi National Museum, 300km south of Cairo, was looted (see related story): it was known for its important collection of artefacts from Tell el-Amarna, the capital city founded by the pharaoh Akhenaton around 1350BC. Egypt's Ministry of State for Antiquities has announced that it has recovered around 21% of the more than 1,000 objects that were taken. Among the 216 artefacts located are two bronze statues—one of the goddess Isis and the other of the god Osiris—three Greco-Roman reliefs and a limestone statue of the god Thoth.
"I am very confident that [locals] will hand over all the objects they find in their possession, due to an obligation to preserve and protect their nation's heritage," the country's antiquities minister, Mohamed Ibrahim, told Ahram Online. The ministry has agreed not to press charges against anyone who returns artefacts; there are also reports that small financial rewards are being offered as incentives to those who return objects.
A wide variety of artefacts, including statues, busts, statuettes, reliefs, coins, jewellery and pots, were looted in the brazen attack in which a member of the museum's staff was shot. Vandals also set fire to two mummies and smashed objects that were too large to be carted off. A small statue of the daughter of the Pharaoh Akhenaten, which dates to the 18th dynasty, has yet to be recovered, however.
When Mohamed Morsi was sworn in as president in June 2012, it appeared that a turning point had been reached—not only for the political direction of Egypt, but also for the protection of its heritage. But the looting that followed the revolution that began on 25 January 2011 continued unabated. Demand for Egyptian antiquities has always been high, and with the lack of security, organised, armed gangs have been systematically plundering sites and exporting their finds to foreign buyers. Egypt's Ministry of State for Antiquities, meanwhile, has been unable to combat these problems, weakened by departments' failure to co-operate (citing this reason, Osama El-Nahas, the director-general of the repatriation of antiquities department, resigned in June), a lack of money and police support.
Armed gangs
Among the worst affected ancient sites is Abu Sir al-Malaq in Middle Egypt. The Egyptian archaeologist Monica Hanna reports that gangs of around 30 men armed with machine guns are digging during the night; the site is now a blasted landscape, littered with bones and discarded pieces of painted coffins, which the site custodians burn to boil water for tea. Carved scenes and hieroglyphic inscriptions have been hacked apart to be sold to antiquities dealers. Although the site's plight has been reported to the ministry of antiquities, nothing has yet been done.
It is a different story at Dahshur, a Unesco World Heritage Site just south of the Giza pyramids. A cemetery was illegally constructed earlier this year, and armed men excavated around the pyramids. Archaeologists and members of the local community launched an on-site protest and a three-month-long online and social media campaign, which brought Dahshur to the world's attention. As a result, Mohamed Ibrahim, who was the minister of antiquities from 2011 to May 2013 and was reinstated in July, sought additional security from the military: the army is now protecting the site and the cemetery is to be removed.
Arab el-Hisn, part of ancient Heliopolis and now surrounded by modern Cairo, was similarly saved thanks to popular intervention. A local gang announced that it would seize the site, which had become covered in rubbish, for illegal construction during the protests in June. To bring attention to the developing crisis at Arab el-Hisn, as well as to deter the gangs by taking visible action, volunteers used social media to mobilise, helping ministry inspectors to tidy and secure the site.
Monica Hanna, meanwhile, has established Egypt's Heritage Task Force, which aims to record and monitor sites in danger: the group encourages people across Egypt to report any attacks on heritage sites. This is just one of a number of popular movements recently formed to combat heritage crime; others include Save Cairo (for Historic Cairo), Save Port Said and Save Alexandria.
Political crisis
Mohamed Ibrahim says that he is taking further measures to increase security at historic sites. However, archaeologists are protesting about his reappointment, angry, in part, about his failure to tackle the heritage crisis during his previous tenure. Zahi Hawass, Egypt's former antiquities chief, says: "He stayed for one-and-a-half years doing nothing, and that encouraged people to [make] more attacks on the sites… to combat the situation, the minister of antiquities must have a plan."
Although Hanna is equally pessimistic about the future, she does offer one reason for hope. "Unlike under the Muslim Brotherhood, when no one listened to concerns about heritage sites, the new government is listening, which leads to pressure on the ministry," she says. "Also, the people now know it is up to them. They have the responsibility. If nothing is done, they know they can kick people out."
With additional reporting by Emily Sharpe
Source: http://www.theartnewspaper.com
© 2004-2026 Bill McNulty All Rights Reserved