Giza Plateau News Article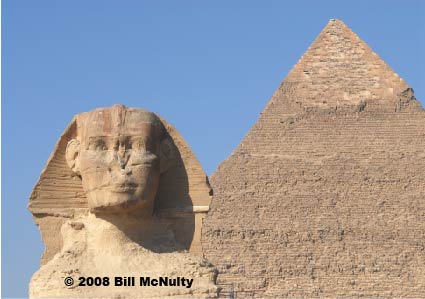 Egyptians Struggle as Wary Tourists Stay Away
By KAREEM FAHIM
Published: April 2, 2013
AL-BAIRAT, Egypt — Many of this country's post-uprising troubles wash up here, in a crumbling shack on a dirty canal, where 13 members of the Abdul Latif family have long relied on tourism to keep them from slipping from poverty into ruin.
Adel Abdul Latif supported his family making the Pharaonic alabaster figurines that vendors hawk at the temples around Luxor. He also worked in construction, which depended on the prosperity of the local hoteliers and other businesspeople who hired him.
Then the tourists stopped coming.
This winter there was so little work — during what had been the high season for tourism in Luxor — that the family had to rely on cash handouts and free blankets from a local charity staggering from its own financial woes.
For Egyptians taking nervous note of the country's mounting calamities, with security ebbing and prices rising, the sustained drop-off in tourism has been especially alarming. Tourism provides direct jobs for nearly three million people, critical income to more than 70 industries and 20 percent of the state's foreign currency — now desperately needed to prop up the plummeting Egyptian pound.
The changes to Egypt's complexion have been just as startling, as coveted tourism destinations have become bargain stops, celebrated temples have emptied and residents have directed their anger at the capital, Cairo, the site of the interminable political squabbles and street violence that have kept the tourists away.
"We are the ones that suffer," said Ezzat Saad, the governor of Luxor, where in better times tourists relax on Nile cruises or stroll through the Great Hypostyle Hall at the nearby Temple of Karnak. These days, on the streets below the governor's office, idle workers spend much of their time talking about the failings of the government.
"Whatever I do on the local level," Mr. Saad said, "whatever the minister of tourism does, it has a ceiling. We will never get back what was without political stability or security."
Tourism plummeted in 2011 with the fall of President Hosni Mubarak and the unrest that followed. Some tourists have started to return, but officials say they are mostly beachgoers rather than the more lucrative cultural tourists who spend 10 days or more in Egypt, and spend accordingly during once-in-a-lifetime vacations.
Every headline about a riot in Egypt deepens the crisis. Cairo has been the hardest hit, with hotel occupancy falling to below 15 percent or worse in parts of the city closest to protests, according to Hani el-Shaer of the Egyptian Hotel Association. From Cairo, the hardship ripples across the country, affecting taxi and horse carriage drivers, boat operators, tour guides and store vendors.
"If something goes wrong in Cairo, tourists cancel the whole trip," said Hisham Zaazou, Egypt's minister of tourism.
Officials have thrown up their hands at a problem that no amount of salesmanship seems able to fix. They have already been forced to abandon the grand marketing campaigns of the past; there is little money for advertisements, and in any case, a slick television commercial for Egypt would be useless, if followed by a news report on the latest bloodshed, officials said.
"The perception is that they're not welcome," Mr. Zaazou said. "That the Egyptian people are hostile. I need to change this."
So the country's promoters are focusing on what they say are inflated fears about Egypt's safety, which they are countering with a limited effort to portray "the reality," Mr. Zaazou said. One plan is to stream live video of Egypt over the Internet — of beaches and tourist attractions like the Egyptian Museum — to show that all is well in many of Egypt's most treasured spaces.
It is an approach that Mexico has tried as well in its effort to draw attention to the distances, sometimes vast and sometimes not, between a prime beach or plaza and headline-grabbing, drug-related slaughter.
"We want to give assurances that Egypt is not just a square kilometer where there are disturbances," said Nasser Hamdy, the head of the Egyptian Tourism Authority.
Officials also are pushing to attract tourists from new markets, to replace the American and other visitors sitting out the current crisis. The government has focused on India, and especially Iran, whose relationship with Egypt has started to warm after decades of official animosity.
But even that effort has been troubled by politics: a few days ago, the arrival of the first planeload of Iranian tourists brought a fevered response from ultraconservative Sunni Islamists, who promised new efforts to warn Egyptians about what they called the "dangers" of Shiite Islam.
For now, Luxor feels like a ghost town, haunted by the trappings of its glamorous past. Cruise ships are idle and moored together in bunches along the Nile. On the Corniche promenade, horse carriage drivers scuffle among themselves over the few tourists who emerge from the grand Winter Palace Hotel, its gardens and restaurants splendid — but deserted.
A proprietor at Gaddis & Co., a souvenir shop below the hotel that opened in 1907, called this the most sustained tourism crisis in Luxor since the period between Egypt's last wars with Israel in 1967 and 1973. Even after militants killed 60 tourists in 1997 at the Temple of Queen Hatshepsut, visitors stayed away for only a few months, said Badawy Fikri, a guard who works at the temple.
Before the uprising, he said, "I wouldn't recognize a friend in the crowds."
On a recent Sunday, only a trickle of visitors walked through the temple's colonnaded terraces. Ahmed Allam, a frustrated tour guide, said Egypt needed to "think outside the box," searching, as many do, for novel ways to make Egypt desirable again. He noted that ancient Egypt had lost its most tireless promoter, the flamboyant archaeologist Zahi Hawass, who was sidelined after the uprising because of legal troubles and his ties to the former government.
"We need to make it easier to film movies here," Mr. Allam said. "We need celebrities. Rock 'n' roll bands. Weddings at the Pyramids. This will take years."
There were no visitors at the nearby mortuary temple of Ramses II to see the fallen statue linked by legend to Ozymandias. A group of Egyptian schoolchildren had the Luxor museum largely to themselves, troubled only by a group of tour guides who strolled through — mostly, one of the guides said, because they had nothing better to do.
"I have colleagues who have tours every three or four months," said Mohamed Aziz, who has worked as a guide for eight years and is on the verge of trying something else. "Lots of people are working without salaries. We have hopes and dreams. Reality is something else."
By some estimates, up to 90 percent of people working in Luxor and the surrounding towns like Bairat were dependent on tourism, officials said. A local charity in Bairat that provided aid to poor families, orphans and disabled people said that many of its most important donors — like hotel and cruise boat owners — had stopped giving.
Abulatta Ibrahim, who sits on the board of the charity, said they had stopped construction on a community center that was to include a school, a manufacturing center for dressmakers and a clinic. "If we don't have tourists," he said, "we can't do this."
Asmaa El-Zohairy contributed reporting.
Source: NY Times
© 2004-2026 Bill McNulty All Rights Reserved