Giza Plateau News Articles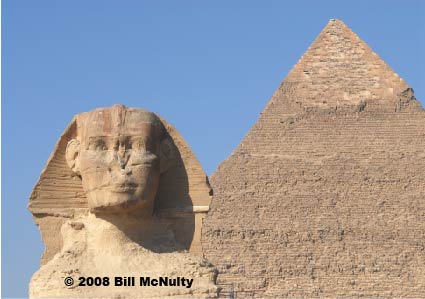 Egypt Finishes Restoration of Sphinx, Menkaure Pyramid
November 11, 2014 12:36 Cairo, Nov 6 (EFE).-
Egyptian authorities have completed the restoration of the famous Sphinx and the pyramid of Menkaure, the smallest of the three Giza Pyramids, said Antiquities minister Mamdouh al-Damati on Thursday.
Experts repaired cracks and fissures within some rock blocks north of the Sphinx, which had been in place since the restoration process that took place during the 1980s.
The works, which began last August, sought to restore areas of the neck and chest, which are the most fragile of the Sphinx. They were repaired with a mixture of stone and limestone.
Al-Damati recalled in the statement that the cracks were caused by erosion and that the monument had not been restored since 2010.
At the pyramid of Menkaure, the repair included salinity treatment of its internal walls, new lighting and ventilation of the halls and chambers.
The pyramid and the Sphinx will be reopened on Sunday to visitors during an official ceremony in the presence of Egyptian Prime Minister Ibrahim Mehleb.
Al-Damati stressed that the reopening of these two monuments is part of his ministry's efforts to restore archaeological sites and preserve their historical value.
The vast plateau of Giza, on the outskirts of Cairo, has a royal necropolis including the sphinx, the tombs of several kings and queens of the Fourth Dynasty, and the legendary Pyramids of Cheops, Chephren and Menkaure.
Source: GlobalPost
© 2004-2026 Bill McNulty All Rights Reserved