Giza Plateau News Articles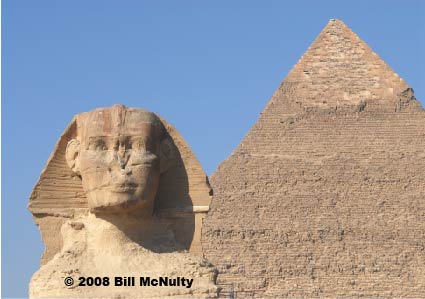 Long-Lost Pyramids or Just Natural Formations? Answer Buried in Egypt
Rossella Lorenzi Discovery News July 17, 2013 at 12:29 PM ET
Mysterious, pyramid-like structures spotted in the Egyptian desert by an amateur satellite archaeologist might be long-lost pyramids after all, according to a new investigation into the enigmatic mounds.
Angela Micol, who last year found the structures using Google Earth 5,000 miles away in North Carolina, says puzzling features have been uncovered during a preliminary ground proofing expedition, revealing cavities and shafts.
"Moreover, it has emerged these formations are labeled as pyramids on several old and rare maps," Micol told Discovery News.
Located about 90 miles apart, the two possible pyramid complexes appeared as groupings of mounds in curious positions.
One site in Upper Egypt, just 12 miles from the city of Abu Sidhum along the Nile, featured four mounds with an unusual footprint.
Some 90 miles north near the Fayum oasis, the second possible pyramid complex revealed a four-sided, truncated mound approximately 150 feet wide and three smaller mounds in a diagonal alignment.
"The images speak for themselves," Micol said when she first announced her findings. "It's very obvious what the sites may contain, but field research is needed to verify they are, in fact, pyramids,"
First reported by Discovery News, her claim gained widespread media attention and much criticism.
Authoritative geologists and geo-archaeologists were largely skeptical and dismissed what Micol called "Google Earth anomalies" as windswept natural rock formations -- buttes quite common in the Egyptian desert.
"After the buzz simmered down, I was contacted by an Egyptian couple who claimed to have important historical references for both sites," Micol said.
The couple, Medhat Kamal El-Kady, former ambassador to the Sultanate of Oman, and his wife, Haidy Farouk Abdel-Hamid, a lawyer, former counselor at the Egyptian presidency and adviser of border issues and international issues of sovereignty, are top collectors of maps, old documents, books and rare political and historical manuscripts.
El-Kady and Farouk have made important donations to the Egyptian state and the U.S. Library of Congress. Their various gifts to the Library of Alexandria include Al-Sharif Al-Idrissi's map of the Earth drawn for King Roger II of Sicily in 1154.
According to the couple, the formations spotted by Micol in the Fayum and near Abu Sidhum were both labeled as pyramid complex sites in several old maps and documents.
"For this case only, we have more than 34 maps and 12 old documents, mostly by scientists and senior officials of irrigation," El-Kady and Farouk told Discovery News.
For the site near the Fayum, they cited three maps in particular -- a map by Robert de Vaugoudy, dating from 1753, a rare map by the engineers of Napoleon Bonaparte, and a map and documents by Major Brown, general of irrigation for Lower Egypt in the late 1880s.
The documents would point to the existence of two buried pyramids that add to the known Fayum pyramids of Lahoun and Hawara.
"They would be the greatest pyramids known to mankind," the couple said. "We would not exaggerate if we said the finding can overshadow the Pyramids of Giza."
Their sources would indicate the pyramids at the Fayum site were intentionally buried in a "damnatio memoriae" -- an attempt to intentionally strike them from memory.
While the site in the Fayum has not been investigated yet, a preliminary on-the-ground expedition has already occurred at the site near Abu Sidhum, providing intriguing data to compare with El-Kady and Farouk's maps and documents.
"Those mounds are definitely hiding an ancient site below them," Mohamed Aly Soliman, who led the preliminary expedition near Abu Sidhum, told Discovery News.
"First of all, the land around them is just a normal flat land. It is just desert -- sand and stones," he said. "The mounds are different: You will find pottery everywhere, seashells and transported layers. These are different layers, not belonging to the place, and were used by the Egyptians to hide and protect their buried sites," he said.
"Describing himself as "one of the many Egyptians obsessed with the pharaohs' civilization," Aly has a background as a private investigator and has been studying to identify archaeological sites in Egypt.
"If we look back in history we will find that pharaohs were using seashells in building their tombs and pyramids for ventilation purpose," Aly said.
"Even the rocks used in building pyramids contained up to 40 percent seashells."
He cited the work of Ioannis Liritzis, a professor of archaeometry at the University of the Aegean and colleagues at the University of Athens.
According to the amateur geo-archaeologist, the local people living near the mounds had long suspected the formations were ancient in origin. They had tried to dig on one of the small mounds years ago, but the excavation failed due to striking very hard stone that Aly and Micol believe may be granite.
"What made us sure those mounds are hiding pyramids was a special cavity and metal detector we used over the mounds," Aly Soliman said. "The detector we used showed an underground tunnel heading north on both the big mounds."
"It also signaled metal was present in the mounds," he said. "Most Egyptian pyramids have north facing entrance tunnels, so this is another promising piece of evidence we have found."
According to Micol, the Egyptian team believes it has identified a temple or habitation site near the site and a row of what may be mastaba tombs adjacent to the mounds.
So, has a bunch of amateur archaeologists made a discovery that will dwarf the Pyramids of Giza? Or are their pyramids just naturally occurring rock outcrops filled with wishful thinking and vivid imagination?
"Whether they prove to be anything more than nature must be verified on the ground, but this location seems promising and is the result of research beyond simply pointing out the first sand dune noticed on Google Earth," archaeologist Patrick Rohrer told Discovery News.
To further research the pyramid puzzle and examine other sites, Micol's set up the Satellite Archaeology Foundation Inc., a pending non-profit -- and launched a crowdfunding campaign.
"Due to unrest and economic distress in Egypt, life is not easy for archaeologists" Micol said. "We found no one from the Egyptian academic community who is interested in finding out about these sites at this time."
"Now that we have ground proof and historical evidence," she added, "my goal is to go to Egypt with a team of U.S. scientists and videographers to help validate the evidence found by the expedition team and to prove if these sites are lost pyramid complexes."
Copyright 2013 Discovery Communications, LLC.
Source: NBC News
© 2004-2026 Bill McNulty All Rights Reserved