Giza Plateau News Articles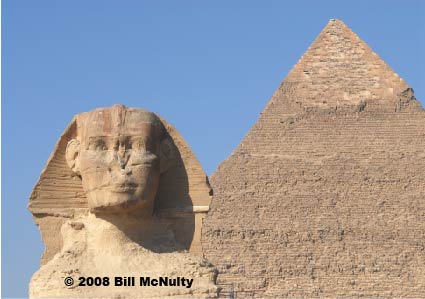 After the Big Speech, Pyramids!
Reuters JUN 4, 2009 20:18 EDT
CAIRO – After the pressure of his big speech to the Islamic world had ended on Thursday, President Barack Obama got down to the serious business of all Egyptian travelers — visiting pyramids.
Swapping his speech suit for beige chinos and a navy blue polo shirt, Obama helicoptered to the hot and dusty site of the Khufu pyramid with advisers David Axelrod, Valerie Jarrett, White House spokesman Robert Gibbs, chief of staff Rahm Emanuel and body man Reggie Love. "This thing is huge," he said standing at the base of the pyramid and urging Love to come for a closer look. The pyramid is estimated to weigh 6 million tons and originally stood about 480 feet high. "Hear that guys?"
Obama shouted to reporters. "No evidence aliens actually built this." The president avoided the temptation of riding a camel but watched as Emanuel, Jarrett and Love mounted the seated beasts and were then lifted high in the air as the animals stood. "I just want you guys to know," he told accompanying reporters, "if you weren't here, I'd get on a camel. I don't want to give you guys the satisfaction." Obama toured the nearby sphinx with Dr. Zahi Hawass, secretary of the Supreme Council of Antiquities, and pronounced it as awe inspiring.
And he visited the Solar Boat, a 130-foot vessel found buried near the pyramids. At one point the president entered a subterranean tomb and called attention to one of the hieroglyphs with a round face and big ears. "Hey, that looks like me," a member of the group quoted him as saying. "Look at those ears."
For more Reuters political news, click here. Photo credits: Reuters/Larry Downing (Obama at sphinx; Obama in front of pyramid with Hawass)
Source: http://reuters.com
© 2004-2026 Bill McNulty All Rights Reserved