Giza Plateau News Articles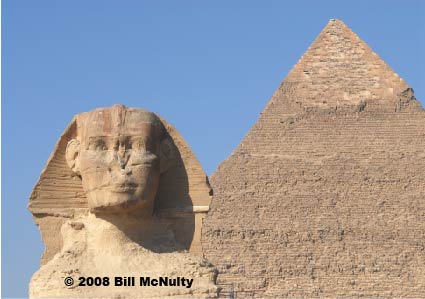 Egypt's Iconic Archeological Sites Prepare for the Second Phase of Restoration
Nevine El-Aref , Sunday 1 Jan 2012
Minister of state for antiquities visits the Sphinx and Mit-Rahina monuments as the Giza Plateau Development Project moves to the next stage

Earlier today the Minister of State for Antiquities Mohamed Ibrahim led a tour around the Giza plateau to monitor work being done on the Sphinx's Valley Temple and Mit-Rahina archaeological site, as part of the lead up to the second phase of the Giza Plateau Development Project due to be launched in March.
At the Sphinx's Valley Temple, workers have been draining the subterranean water that has accumulated under the iconic statue. Ibrahim maintained that they only periodically pumped the water as part of the planned schedule designed to prevent further damage of the Sphinx. At Mit-Rahina, Ibrahim announced an immediate draining project to ensure the subterranean water levels were reduced to their original levels at this historical site.
Ibrahim forged an agreement with the local vendors to rebuild their stalls at a lower level to maintain a clear panoramic view of the historic monuments, as well as promising to build a market for tourists selling replicas and souvenirs at the open air museum.
Ibrahim also visited the Saqqara archaeological site where he inspected the restoration work carried out in the Djoser pyramid area. There Ibrahim announced that the Djoser pyramid restoration work is being carried out according to schedule. To date six of the pyramid's mastabas (flat-roofed tombs) have been archaeologically restored and cleaned. Damaged blocks on Djoser have also either been restored and returned to their original position or replaced with new replicas.
Source: Al Ahram

© 2004-2026 Bill McNulty All Rights Reserved