Giza Plateau News Articles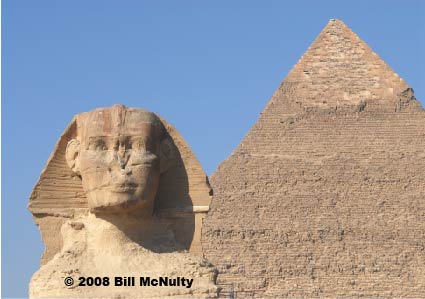 ND Native Egyptologist Embarks into Further Mysteries at Giza
SEP 11, 2022
ELOISE OGDEN

World renowned Egyptologist and North Dakota native Mark Lehner will be looking into two pyramid temples at Giza, Egypt, during the upcoming season of his work in that country.

Lehner, who has studied and conducted digs in Egypt for four decades, is director and president of Ancient Egypt Research Associates Inc.(AERA), a nonprofit organization he co-founded and is based in Boston. He divides his time between living in Giza, Egypt, and in the Boston area.
"In the coming season of work at Giza, between September and April, we will be looking into two pyramid temples at Giza, the upper temple of the Great Pyramid of Khufu, with Zahi Hawass (Egyptian archaeologist) and supported by a grant from the American Research Center in Egypt's (ARCE) Antiquities Endowment Fund (AEF), and the Menkaure Valley Temple (the lower temple of the Third Giza Pyramid," said Lehner.

"We will next turn to excavating a large royal building, part of an ancient palace city of the pyramid-building kinds, in our flagship site, Heit el-Ghurab ("Wall of the Crow" in Arabic), where we found the Lost City of the Pyramids," he added.

Lehner was born in Fargo, went to grade school in Jamestown and graduated from Minot High School. His education includes a bachelor of arts degree in anthropology from the American University in Cairo and a doctorate degree in Egyptology from Yale University, New Haven, Connecticut.

He makes periodic trips to the Magic City to visit family and friends and has made presentations about his work while here.
Earlier this year, a new book co-authored by Lehner with another high-profile Egyptologist was released.

"The Red Sea Scrolls" is written by world-renowned Egyptologist Pierre Tallet in close collaboration with Lehner. Tallet has done pioneering fieldwork on the Red Sea coast of Egypt. He founded the papyrus archive in 2013 at Wadi el-Jarf on the western Red Sea coast.

Lehner said he contributed about 30% of the book.

"That book is about the amazing discovery of the Wadi el-Jarf Papyri, including the Journal of Merer, the actual logbook of one of the directors of a team working on building the Great Pyramid, and about how the information from this source related to what we have found in our archaeology at Giza," Lehner said.

According to a review of the book published in the January edition of the Science journal, the book is an elegantly illustrated landmark book and the first to reveal how the raw materials used in the Great Pyramid's construction were transported to Giza via Egyptian ports during the reigns of Sneferu and his son Khufu.

Lehner also was recently featured in The New York Times. Published in the July 4 edition, the story, titled "A Refreshing Look at Egypt's Ancient Pyramids," was part of the publication's "The World Through A Lens" series.
Source: https://www.minotdailynews.com

© 2004-2026 Bill McNulty All Rights Reserved