Giza Plateau News Articles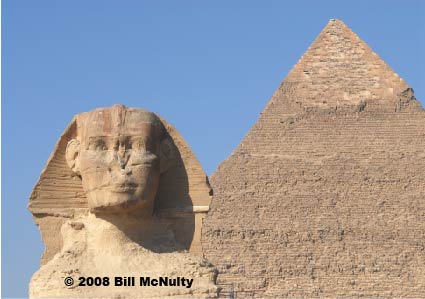 Egypt's Most Ancient Maritime Harbor in Suez Discovered
A French-Egyptian archaeological mission discovered the oldest commercial harbor from the fourth dynasty King Khufu (Cheops) at Wadi Al-Jarf area, 180 km south of Suez. On the Red Sea shore at Wadi Al-Jarf area along the Suez-Zaafarana road, a French-Egyptian archaeological mission from the French Institute for Archaeological Studies (IFAO) stumbled upon what it believed to be the most ancient harbor ever found in Egypt.
The harbor goes back to the time of the fourth dynasty King Khufu. The harbor is considered one of the most important commercial ports where trading trips to export copper and other minerals from Sinai were launched.
A collection of vessel anchors carved in stone was also discovered as well as different docks.
Minister of State for Antiquities Mohamed Ibrahim announced that a collection of 40 papyri, showing details of daily life of ancient Egyptians during the 27th year of King Khufu's reign, was also unearthed during excavation.
"These are the oldest papyri ever found in Egypt," asserted Ibrahim. He also stated that these papyri are very important because they reveal more information about the ancient Egyptians' daily life.
Source: http://www.sis.gov.eg
© 2004-2026 Bill McNulty All Rights Reserved