Giza Plateau News Articles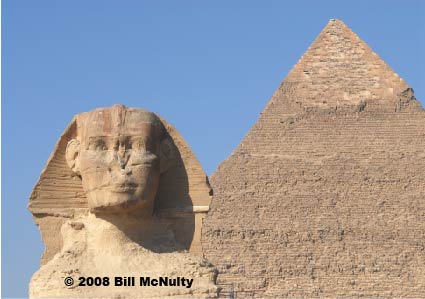 Google Street View Brings Egypt's Pyramids To A Computer Near You
From ancient citadels to the Great Sphinx, you can now explore Egypt's wonders in the digital world
By Natasha Geiling
SMITHSONIAN.COM September 10, 2014
Among the Seven Wonders of the Ancient World, only the Great Pyramid of Giza remains as more than an illustration in a history book. Now, the Pyramid—along with five other historic Egyptian sites—will be preserved forever in the digital world, thanks to Google Street View.
"Being able to bring a flavor of the pyramids online, so that people can experience the wonder and their grandeur, is something that we're really excited about doing," says Deanna Yick, Street View program manager.
Using their Trekker technology—a backpack with a camera affixed to the top—Google's Street View team collected images from a handful of historic sites around Egypt over the course of a couple of weeks in 2013. Working with local government, the Street View team selected six different sites to photograph, from one of the oldest churches in Egypt (the Hanging Church) to the oldest monumental statue in the world (the Great Sphinx of Giza). "Absolutely we wanted the pyramids, the iconic Sphinx, and those were of our most top priority," Yick says, "but we also wanted to capture some other locations around Cairo, and some other landmarks, in order to be able to give people a sense of what this place looks like collectively."
By assembling these images into panoramic, 360-degree images, Street View allows users to explore sites like the Cairo Citadel and the Great Pyramid of Giza (the oldest and largest of Giza's three pyramids) as if they were walking through them. Unlike their original Street View car, the Trekker allows Street View to capture images in places where there are no roads or little infrastructure, like Angkor Wat or the bottom of the Grand Canyon. The Trekker's portability also means that Google can bring delicate archeological sites, like the pyramids, to the web while leaving the smallest possible footprint.
Street View's mission, in part, is to act as a digital mirror for the physical world, allowing users to virtually visit places they might never see in person. But with ancient cultural sites like the Pyramids or the Sphinx, the mission becomes even more complex. "On a global scale, there are few places that really capture peoples' imagination. For us, this is extremely exciting because it's one of those few places that we think that everyone is curious about," Yick says. "We've created a record of ancient construction that can be of interest to not just explorers, but scientists and archeologists." With the images, Yick says, those who study the pyramids or other ancient architecture now have a recorded benchmark of their condition—years from now, archeologists will be able to go back and use these images as a reference for how the sites have changed.
Google also hopes that the images will be used by educators to help create a more dynamic learning process. "More than a lot of imagery launches we've done to date, people are so familiar with Egypt," says Street View communications associate Susan Cadrecha. "These new Street View images are wonderful way to tie into what people are thinking about when they learn about [Egypt]."
Source: http://www.smithsonianmag.com

© 2004-2026 Bill McNulty All Rights Reserved