Giza Plateau News Articles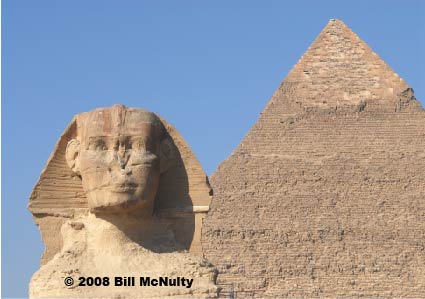 Yes, the Pyramid Is Out of Bounds
Golfers head up a fairway of Egypt's Mena House course in the shadow of the Great Pyramid of Cheops.
By GERALD ESKENAZI
Published: March 22, 2009
I LOOKED around the green as I lined up my putt. There was nothing particularly interesting or unusual about the course itself. What got my attention was the looming figure a few hundred yards behind it: the Pyramid of Cheops.
I have golfed on the island of Elba, a chip shot from Napoleon's home-in-exile. I have walked fairways with Arnold Palmer, Jack Nicklaus and Greg Norman during my days as a sportswriter. I once even got a back rub from a caddie in Thailand. But nothing could prepare me for the awe-inspiring sight of a 40-story pyramid rising up behind a flag flapping on the green.
So how did I end up golfing next to the Great Pyramid? It didn't take special dispensation from an international organization. In fact, it's quite simple.
First, get yourself to Egypt. My wife and I stayed outside Cairo at the grand old Mena House, run by the posh, India-based Oberoi hotel group. To our delight, our room overlooked the pyramid. At night, the mysterious monument is illuminated, enhancing its already otherworldly aura.
Though the Sphinx was more of a draw before our arrival, the idea of golfing in such an unlikely location was too good to pass up. To get to the course, all I had to do was to walk across the street — Pyramids Road, wouldn't you know — plunk down less than $15, and play 18 holes. Although the 109-year-old course is owned by Mena House, anyone can play (it's about $5 to $10 more if you're not staying at the hotel).
Waiting time? None at all during the week. On weekends — in this Muslim country, Friday and Saturday — you probably will have to wait until noon to tee off. Even then, though, there is only a wait of about 10 minutes, the hotel says. We visited in January, the high season for Egyptian tourism, and only one other couple was on the course.
There are no motorized carts on the course, just those caddies (about $10 a round) or a little wheeled bag carrier. Don't have clubs? Rent them for $10.
The course originally was designed by the hotel during the Victorian era in an attempt to mirror the grand old Scottish courses: lots of high grass and rough. In 1917, it was redesigned to have the sleeker look of a standard course.
The appeal of playing golf alongside one of the Seven Wonders of the Ancient World is obvious. But what's interesting is how quickly you get accustomed to the setting. Golf does, after all, require some concentration, and pyramids or no, you still want to hit the green.
After sipping an Egyptian coffee in the clubhouse restaurant — where a recording of "I Left My Heart in San Francisco" was playing — I walked around with Saber Zidale, the assistant manager of the course. Watering the course is very tricky, he explained, since you don't want the excess to flow toward the pyramid and get its bottom wet. For that reason, the course has no water hazards either, by order of the Department of Antiquities.
Mr. Zidale explained that for Egyptians golf is an expensive game. Perhaps 20,000 people in this country of about 80 million play, he estimated. That works out to an average of one golfer for every 4,000 Egyptians (contrast that with the United States, where one person in 11 plays golf).
"It's only played by the upper classes in Egypt," Mr. Zidale said. "People who are C.E.O.'s and company presidents. Plus, every embassy has people that play here."
In this country dominated by desert, there are, fittingly, 34 bunkers. Nevertheless, it's a relatively easy course: nine holes that if you play them twice measure about 5,300 yards long, with only one dogleg. In many ways, it was a familiar golf experience: the greens and the grass on the fairways are similar to those we play in America.
But I had a feeling eerily like the one I enjoyed in Elba: sort of like being awake and yet playing in a fantasy. You expect a flash of lightning the first time your club rips into the ball, disturbing the ground. But no, all you hear is the click of the club head making contact.
And while the setting is by nature somewhat reverential, the course rules aren't. You can play in a T-shirt if you want. Or sneakers. It's all quite informal, much like the country itself.
Jasmine trees line the fairway and the course is visited by an assortment of birds and animals. Late in the day, owls do flyovers. There are pigeons and crows.
And always, the pyramids. I could not get those big things off my mind as I hit an approach shot at 12, which offers the most dramatic view of the 455-foot-high Cheops pyramid. It's the largest of the three main pyramids, the one with the pointy top shaved off (nothing sinister; about 18 feet collapsed one day because of the weight of limestone that used to cover it). I like to tell people that one of my drives did the damage.
"Some people who see the pyramids, they play and they don't believe it," said one caddie, Mohamed Salah. His colleagues are a quick-smiling g
There are plans to renovate the course this year, with Robert Trent Jones Jr., who has designed courses all over the world, at the helm. It may be the only course in the world where a department of antiquities is involved.
The new course will have three water hazards, but special care will be taken to provide a series of pools that will contain any runoff and keep the water well away from the pyramids. Also, the water hazards will be fairly shallow.
"Antiquities will allow a lake only 2.5 meters deep — in case you hit a mummy," Mr. Zidale said.
There will be an enhanced locker room, and the restaurant will be expanded. For now, though, there is a wonderful old wooden-bedecked 19th hole, where you can feel you're back in Victorian times — until you look up at the pyramids, which brings you right back to ancient times.
Whatever the changes, though, some constants will remain.
Hany Aziz, the Mena House's rooms manager and head of the course, said:
"One thing I like about golf. It makes you humble."
A timeless declaration that applies equally to the game, and, in this case, its neighbor.
TEEING UP
The Mena House Oberoi (6 Pyramids Road, Giza, Cairo; 20-2-3377-3222; www.oberoimenahouse.com), is about 45 minutes from downtown Cairo. Rooms at the hotel start at about $180 a night.
Greens fees for hotel guests are 50 Egyptian pounds for 9 holes and 75 pounds for 18 holes, about $9.50 and $13 at 5.8 Egyptian pounds to the dollar. Others pay double. Club rentals are 55 pounds, and caddies are 50 pounds for 18 holes.
Note: The course is scheduled to close for renovation this spring(2009), and the hotel's main building for the same reason in August.
Source: NY Times

© 2004-2026 Bill McNulty All Rights Reserved