Giza Plateau News Articles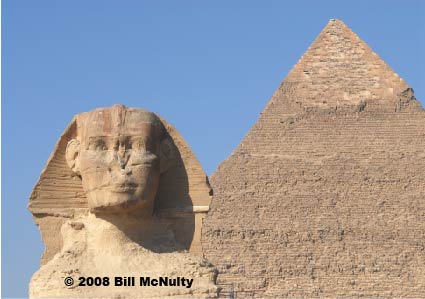 New Committee Aims to Solve Harassment at Egypt Pyramids
A newly-established Plateau Committee is to oversee Giza tourist troubles
Nevine El-Aref , Monday 17 Jun 2013
"One guy jumped on the taxi trying to sell us a camel ride!" recounts Adam Koppeser, a Cairo resident who recently took some of his friends on a visit to the great Giza pyramids.
"And at the entrance, a guy asked me for my ticket but he wasn't wearing a tourism badge. When I asked him to show it to me, I pointed out that what he showed me was his national ID – not a tour guide permit."
To counter this kind of harassment and build bridges with the villagers of Nazlet Al-Samaan neighbouring the Giza plateau pyramids, the ministry of state for antiquities established The Plateau Committee.
The committee consists of representatives from the Ministry of State for Antiquities (MSA), ministries of tourism and interior as well as representatives from Giza governorate, civil society and Nazlet Al-Samaan residents. It will submit a monthly report on the problems in the plateau and suggest solutions.
Indeed, Egypt's security vacuum during and after the January 2011 Revolution has certainly taken its toll. The Giza plateau's spiritual and archaeological sanctity has been desecrated by vendors, peddlers, horse and camel owners who, in violation of the law, entered the archaeological safe zone hoping to reach more clients.
Aggressive parking attendants – or 'thugs', depending on who you talk to - pound vehicles at the plateau entrance and demand money to park them, frightening tourists and even Egyptians.
"The whole site became chaotic," says Anita Diaglo, an Italian tour guide who is married to an Egyptian. She recounts that during her last tour with a group of ten Italians, thugs sexually harassed one of the tourists and ran away before they could catch them.
"The tourist had a nervous breakdown. It was a scandal," said Diaglo adding that they called the tourism and antiquities police unit in the plateau, but they do nothing.
An Egyptian housewife, Sherine Moghis, had a very bad experience with a foreign friend who came all along to Egypt to visit Tahrir Square, the epicentre of Egypt's revolution, and the pyramids - the only survivor of the old seven wonders of the old world.
Before reaching the luxurious Mena House Hotel parking near the pyramids, "Attendants stopped me and forced me to park where they wanted me to. I was really afraid, but I was able to escape by telling them that I will enter the hotel," Moghis recounts.
In fact, she adds "Instead, I took Beatrice, my American friend, and had a warm cup of tea on the Mena House terrace and only saw the pyramid from afar."
Minister of State for Antiquities Ahmed Eissa argues that this type of aggression toward plateau visitors has negative effects on the reputation of the site and Egypt in general, which in turn, affects the country's tourism industry, which has retreated since the revolution.
"We must address the problems with transparency and honesty and work hand-in-hand to protect one of Egypt's great sites," Eissa concludes.
Source: http://english.ahram.org.eg/

© 2004-2026 Bill McNulty All Rights Reserved