Giza Plateau News Articles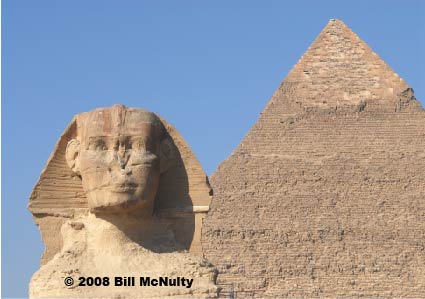 Egypt to Open Inner Chambers of 'Bent' Pyramid
Published March 16, 2009, The Hindu
Cairo
(AP): Travellers to Egypt will soon be able to explore the inner chambers of the 4,500-year-old "bent" pyramid, known for its oddly-shaped profile, Egypt's antiquities chief announced on Monday.
The increased access to the pyramid as well as others in the area is part of an Egyptian effort in cooperation with the United Nations to develop the pyramid complex in a sustainable fashion, while preserving the environment and the antiquities.
Egypt's chief archaeologist, Zahi Hawass, said the 100-m pyramid outside the village of Dashur, 80 km south of Cairo, will be opened for the first time to tourists within the next "month or two".
"This is going to be an adventure, and this is happening now," said Mr. Hawass, speaking at a news conference on Monday.
Dashur's bent pyramid is famous for its irregular profile. The sides rise at a steep angle, then half way up the massive structure they abruptly taper off at a more shallow approach to the pyramid's apex.
Archaeologists believe the pyramid-builders changed their minds while constructing it out of fear the whole structure might collapse because the sides were too steep.
The nearby Red pyramid, also built by the fourth dynasty founder Pharoah Sneferu, is already accessible to visitors. Mr. Hawass said several other nearby pyramids, including one with an underground labyrinth from the Middle Kingdom, would also be opened next year.
Source: The Hindu
© 2004-2026 Bill McNulty All Rights Reserved