Giza Plateau News Article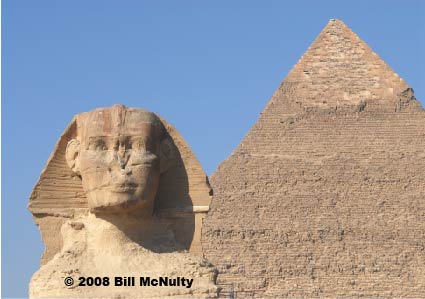 4,500-year-old Harbor Structures and Papyrus Texts Unearthed in Egypt
By Alan Boyle, Science Editor, NBC News
Archaeologists have stumbled upon what is thought to be the most ancient harbor ever found in Egypt, along with the country's oldest collection of papyrus documents, Egyptian authorities say.
The harbor goes back 4,500 years, to the days of the Pharaoh Khufu (Cheops) in the Fourth Dynasty, the Egypt State Information Service reported on Friday. The Great Pyramid of Giza serves as the tomb of Khufu, who died around 2566 B.C.
The harbor was built on the Red Sea shore in the Wadi al-Jarf area, 112 miles (180 kilometers) south of Suez. The find was made by a French-Egyptian mission from the French Institute for Archaeological Studies, according to Friday's dispatch. Discovery News quoted the mission's director, Pierre Tallet of the University of Paris-Sorbonne, as saying that the site "predates by more than 1,000 years any other port structure known in the world." The harbor is considered one of the most important commercial ports of ancient Egypt, where trips to export copper and other minerals from the Sinai Peninsula were launched. Egyptian authorities said the archaeologists found a variety of docks, as well as a collection of carved stone anchors.
The team also unearthed a collection of 40 papyri that detailed the daily lives of ancient Egyptians during the 27th year of Khufu's reign, said Egypt's antiquities minister, Mohamed Ibrahim. "These are the oldest papyri ever found in Egypt," he said. Among the subjects reportedly covered were the arrangements for getting bread and beer to the workers heading out from the port.
One papyrus is said to detail the daily activities of an official named Merrer, who was involved in building the Great Pyramid.
"He mainly reported about his many trips to the Turah limestone quarry to fetch block for the building of the pyramid," Tallet told Discovery News. "Although we will not learn anything new about the construction of the Cheops monument, this diary provides for the first time an insight on this matter."
Source: http://cosmiclog.nbcnews.com
© 2004-2026 Bill McNulty All Rights Reserved