Giza Plateau News Articles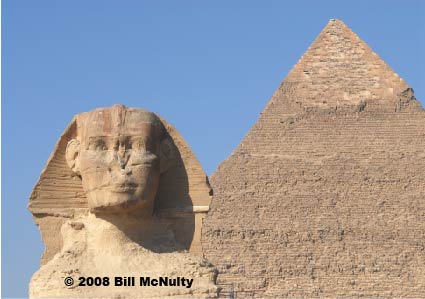 4 Charged in Smuggling Egyptian Antiquities
By KATE TAYLOR
Published: July 14, 2011
Federal authorities announced on Wednesday that they had broken up an international ring that had been smuggling Egyptian antiquities into the United States. The Immigration and Customs Enforcement's Homeland Security Investigations department said it was the first time that a cultural property smuggling network had been dismantled in the United States.

Zahi Hawass, the Egyptian antiquities minister, said it was important "not only to catch the four criminals, but to know who are behind them."
The charges filed in United States District Court in Brooklyn accuse three antiquities dealers and a collector of conspiring to smuggle an Egyptian sarcophagus and other items, and of laundering money. All of the suspects have been arrested except for a Jordanian dealer who operates out of Dubai.
Brenton Easter, a federal agent who led the investigation, which began in 2008, said the items seized had a market value of $2.5 million.
They include a Greco-Roman style sarcophagus, a nesting set of three sarcophagi that dates from about 664 to 552 B.C., and limestone figures. The authorities said these were smuggled from Dubai between October 2008 and November 2009 and were ultimately bought by the collector, Joseph A. Lewis II of Virginia. He bought them from a dealer, Mousa Khouli, who lives in Brooklyn and operates Windsor Antiquities in Manhattan. The dealer, in turn, acquired them from Salem Alshdaifat, owner of Holyland Numismatics in Bloomfield, Mich., and Ayman Ramadan, who runs a company in Dubai called Nafertiti Eastern Sculptures Trading, according to the authorities.
It is not clear when or how the objects were taken out of Egypt, but they have been authenticated and carbon dated, Mr. Easter said.
Mr. Khouli allegedly provided Mr. Lewis with false provenances, stating that the objects were part of a collection that his father had assembled in Israel in the 1960s — a story that authorities say Mr. Lewis knew to be untrue.
Investigators also reported recovering Middle Eastern and Asian artifacts and more than a thousand antique coins. Federal prosecutors are seeking to return the Egyptian artifacts to Egypt, where the minister of antiquities, Zahi Hawass, said he was grateful for the work by American officials. He said he hoped an arrest of Mr. Ramadan, the Jordanian dealer, would provide information about how the objects were smuggled out of Egypt.
It is important, Mr. Hawass said, "not only to catch the four criminals, but to know who are behind them."
A lawyer for Mr. Khouli, Gerald L. Shargel, said, "We're examining the facts, and we'll be commenting shortly, but not today."
Source: NY Times

© 2004-2026 Bill McNulty All Rights Reserved